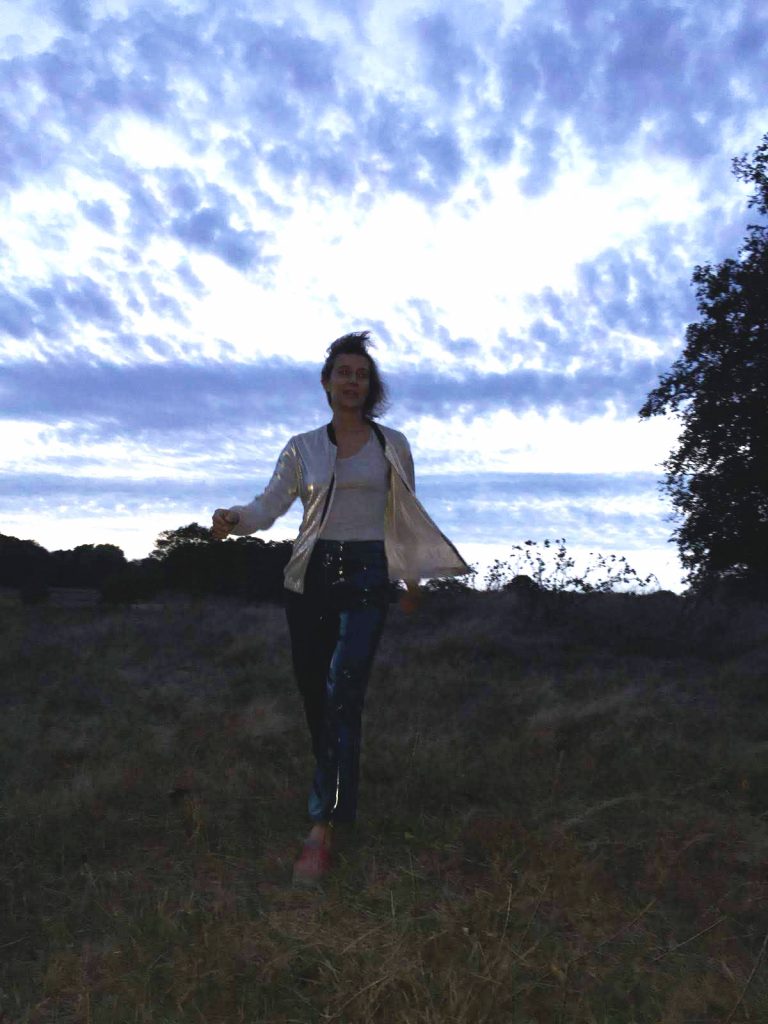 Original co-founder and front woman of post punk band Maximum Joy, Janine Rainforth returned to performing her music in public in 2014, after her music career was cut short in the 1980's by assault and trauma. 
She now records and produces her music mainly from her home studio  in East London.
She releases it on her own label London Field Recordings.
In 2015 Janine reformed Maximum Joy with some original players and some new for Simple Things Bristol 2015 from this the band evolved into MXMJoY. MXMJoY released a new album in 2019 which Janine put out on London Field Recordings. They have played some key gigs including Dimensions 2018 and the inaugural We Out Here 2019. London Field Recordings also manages licensing for all the Maximum Joy back catalogue.
Janine spoke to Vinyl Factory about MXMJoY and their new music
"(P.E.A.C.E.) feels like a celebration of togetherness ..sliding, airy vocals, lending a spooky quality to the tracks, like a ghost slipping in and out between worlds" Crack Magazine 7/10
"As Rainforth forges a new musical future, it's important not to divorce it from her fearless and catalytic past.. Releasing these long-gestated ideas into the public sphere, and especially returning to the stage after over two decades, took some guts.
Rainforth's new work comprises rich, blurry lullabies which flow sonorously through space, dripping searching keys over shuffling rhythms and, of course, Rainforth's piercing but pining vocal. It's a sweeping, ambient sound which recalls another strand of 80s alternative in the otherworldly ethereal wave of Liz Fraser's work with This Mortal Coil, or even the contemporary avant-pop of Zola Jesus or Glasser. 
." Geraint Davies – Crack Magazine
Marrying digital technologies with found sounds and otherworldly vocals, she's dabbling in ambient crescendos and synth-laden melodies to maximum effect."
"Janine Rainforth's singing, probably my all time favourite vocal take, seems to combine an ageless English folk sensibility with both a teenager's innocence/insouciance and a smoked-out drowsy jazz maturity well beyond her years." Kiran Sande – RewindFwd
.. Janine Rainforth …. the perfect non-singer, lightly gorgeous voice but no impulse to shake it around, just like it glide out…. Matthew Schnipper, The Fader
I formed Maximum Joy when I was 17- 18 years old. I was tunnel vision about forming a band – I'd always written and sang from an early age. When punk took off a couple of years before it blew my mind, the DIY ethos of it really spoke to me – we went on to form Maximum Joy. It was my life my focus, and to start with my dream come true.

"It's singer Janine Rainforth that best embodies Maximum Joy's exuberance: Having co-founded the group when she was just 18 years old, she channeled her inspiration…into her own shape-shifting style…she belts it out in the manner of her mentors, slicing into the midrange frequencies with a tone poised at the midway point between speech, screaming, and singing. Listen closely, though, and you'll hear another side of her: a soft soprano background coo, diffuse as a pastel-colored mist.. It's a quality you won't find in any of their contemporaries." Best reissue -Pitchfork – review of "I Can't Stand It Here On Quiet Night" Sept 2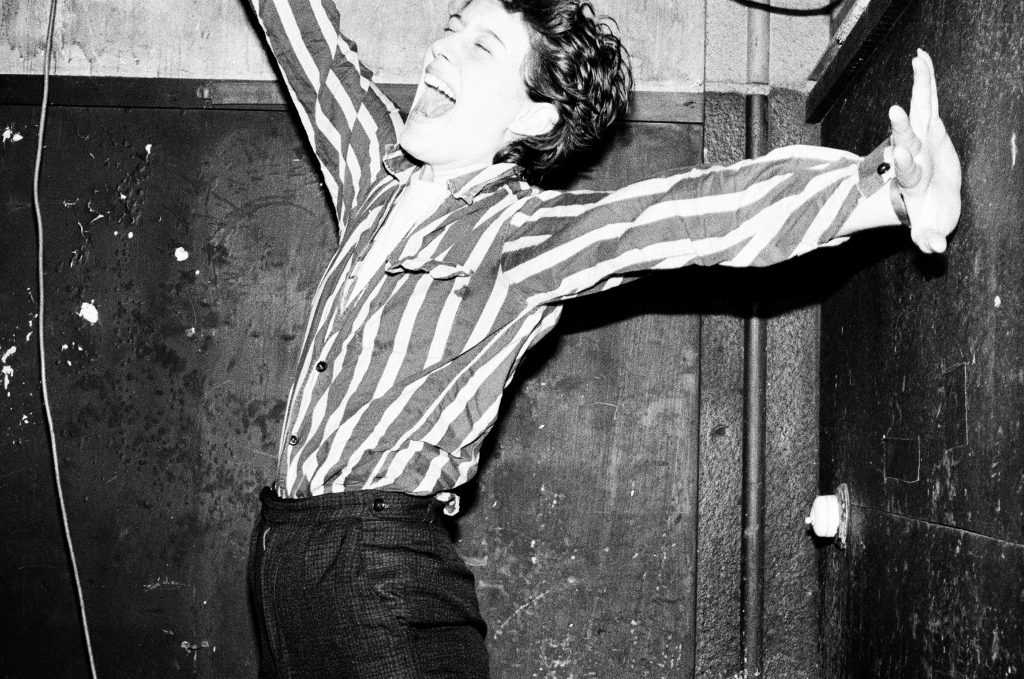 This picture of me was taken when I was a photography student by my friend, G Ewer – we were experimenting with the flash on our cameras in a dark room. This picture went on to be used for the front cover for my band, Maximum Joy's first single – Stretch – below you can hear it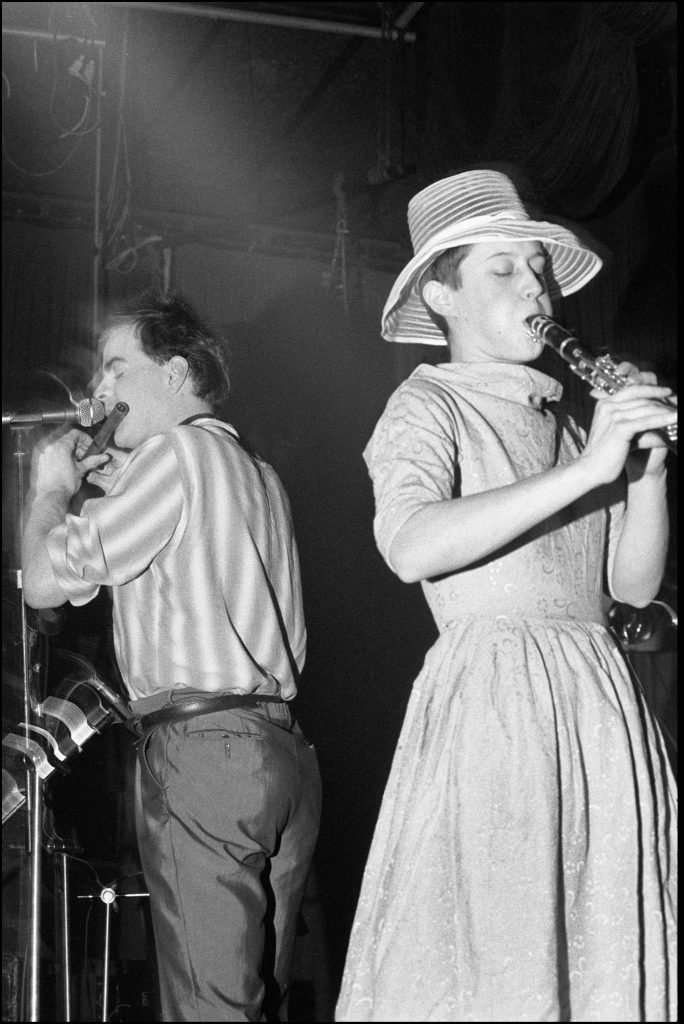 Maximum Joy were doing well – in 1982 they toured Europe and the UK extensively; released 2 singles and an album; their first single Stretch was in the indie charts and had become an underground hit in New York clubs; they made 2 BBC radio sessions and were signed to a new label, they were going up a notch. Behind the scenes things weren't going well though and during a tour in Europe Janine was raped and violently attacked by a band member  She realised she had no choice but to give an ultimatum to the band – saying that she couldn't stay in the band with him – the people around her didn't support her.  She then had no choice but to leave. She didn't lose her commitment to her chosen career and focus, she  started a new band with ex Pigbag and ex Cortina players (Leonard & The Cats) but she found that something new and alien to her was happening, she froze & shook physically anytime she was singing and performing whether in the studio, in rehearsal or on stage.  She found no matter how much she wanted to she couldn't perform or sing like she used to so easily. It was a massive blow for her, she didn't understand what was happening – it was the first time she'd experienced this – it was crippling. It meant she couldn't continue with the new band, or her career, she had no choice but to retreat from her creative life and expression and career. Only now years later has she come to realise it was a reaction to the traumatic events that she'd experienced – she'd lost her ability to perform as a direct response to this.  In March 2019 Janine spoke to the Guardian about what brought her music career to an end back in 1980's  and how she's come back to it nearly 40 years later.
This is some words I wrote in my diary in November 1982.
It was written whilst on tour with Maximum Joy 1982, about an experience with someone from the band that eventually lead to me having no choice but to leave the band I'd started.
This and more will contribute to some writing I'm working on about my time as a young female musician in the 1980's.
22 Nov 1982
Animal instinct
struggling without a word
the fight was helpless
noone ever heard
Animal behaviour
hovering like a bird
following crazy notion
straying from the herd
The word was spoken
The movement taken
the animal frozen
eyes wide open
The trap was set
Possessed and yet
Fear took hold
As eyes met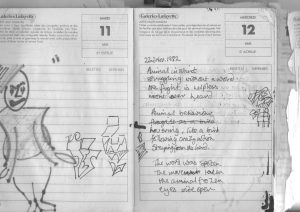 A not so silent girl… more to come watch this space